Amouage - Honour
You know that feeling when you have deadline, and you're doing everything else, but not what you suposed to do... well, that is what I'm doing now! I'm fighting with myself for a while to finished one project for next morning, and all what I'm thinking is how I wan't to write here, and not "there" :D
And I don't think I'll have my piece of mind until I present you my #2 perfume. (here is
#1
in case you forget it ;) )
Amouage Honour
Amouage Honour - Name of perfume was the first thing that attract me to it, and the color of whole package totally fits the name.
Have you ever heard about Amouage? I presume that lot of you haven't because perfumes from Amouage can only be found in those perfumery with Niche range, and you can't find them in normal perfumery like Douglas, Muller, etc.
In Croatia you can find it in Zagreb in place called
Institut Flores
, but I know there is huge number of niche choices out of Croatian board, and on line you can find it over Escentual
or Strawberrynet
.
What is interesting about this house, and about this perfume that I fell in love with it like no other perfume from this house? Well ... interesting information is that Amouage was found by Sultan in 1983.
Also, in Amouage perfumes you can find high quality ingredients, and you won't find such a high concentration of ingredients in commercially perfumes, and for that reason this type of perfumes have much richer, delightful, long lasting smell than that with commercially perfumes.
What does Honour have, and other perfumes don't? Hm... he had me already with name, and also the story that is behind this perfume. Yes, inspiration for this perfume was story about Madam Butterfly, and her sad life, and then he also thrill me with simple bottle, package and of course with his gorgeous smell!
This is not smell that you already smell "somewhere else", in this perfume you will notice specifically and extraordinarity, even you will think for first smell that you already smell it "somewhere else" in few moments, he will argue you.
If you already smell jasmine, tuberose or gardenia
in some perfumes
and you didn't like it, well you have all that ingredients in this perfume, but believe me, no headache with this one! You will love it.
This perfume is so elegant, gentle and feminine, and I can imagine it only for special occasion, when you're feeling proudly.
He has a great wearability, and he will be by you're side through whole day, and he will remind you from time to time that he is still with you.
Bottles for Amouage Women pefumes were made according to Ruwi Mosque Palace.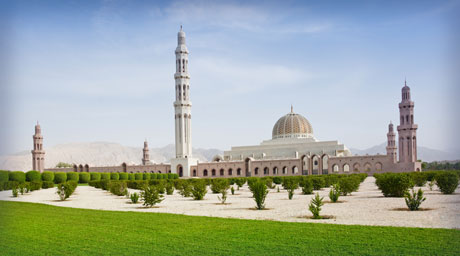 Ruwi Mosque Palace (I found this picture on Interent)
This perfume is worth of trying, even with his high price, he is to expensive, I was lucky enough to find it cheaper over add. Price is around 200$ for 1.6 .oz or 300$ for 3.3 .oz.
I can't say that is wort of the price, but I can tell you that is worth for sure! :) :) :) :)
Conclusion: Very nice perfume, you can wear it all over the year. Very elegant, sophisticated, creamy, little flowery, more powdery, not sultry, simple perfume which could be loved by most people, because it is not glaringly, he has "something special" like I believe also had Madame Butterfly, the inspiration for this, to me very special perfume.
Have you already heard about Amouage? How do you like Honour?